For Advisors
Excellence in sustainable practices for Fraternity and Sorority Life (FSL) is supported by the outstanding volunteer support of Advisors, including faculty and staff on campus, as well as alumni chapter advisors off campus and throughout the community.
** If you are interested in learning about getting involved or volunteering to guide our community success, please e-mail uicgreek@uic.edu
Advisors enhance the FSL community and unite with full-time FSL staff to develop values-based leadership development programming; provide training in chapter operations, risk management, health and safety, and membership recruitment; monitor the academic performance of fraternity and sorority members; and recognize the positive achievements and contributions of community members.
Advisor newsletters, communication, training/education, and targeted engagement opportunities are housed here: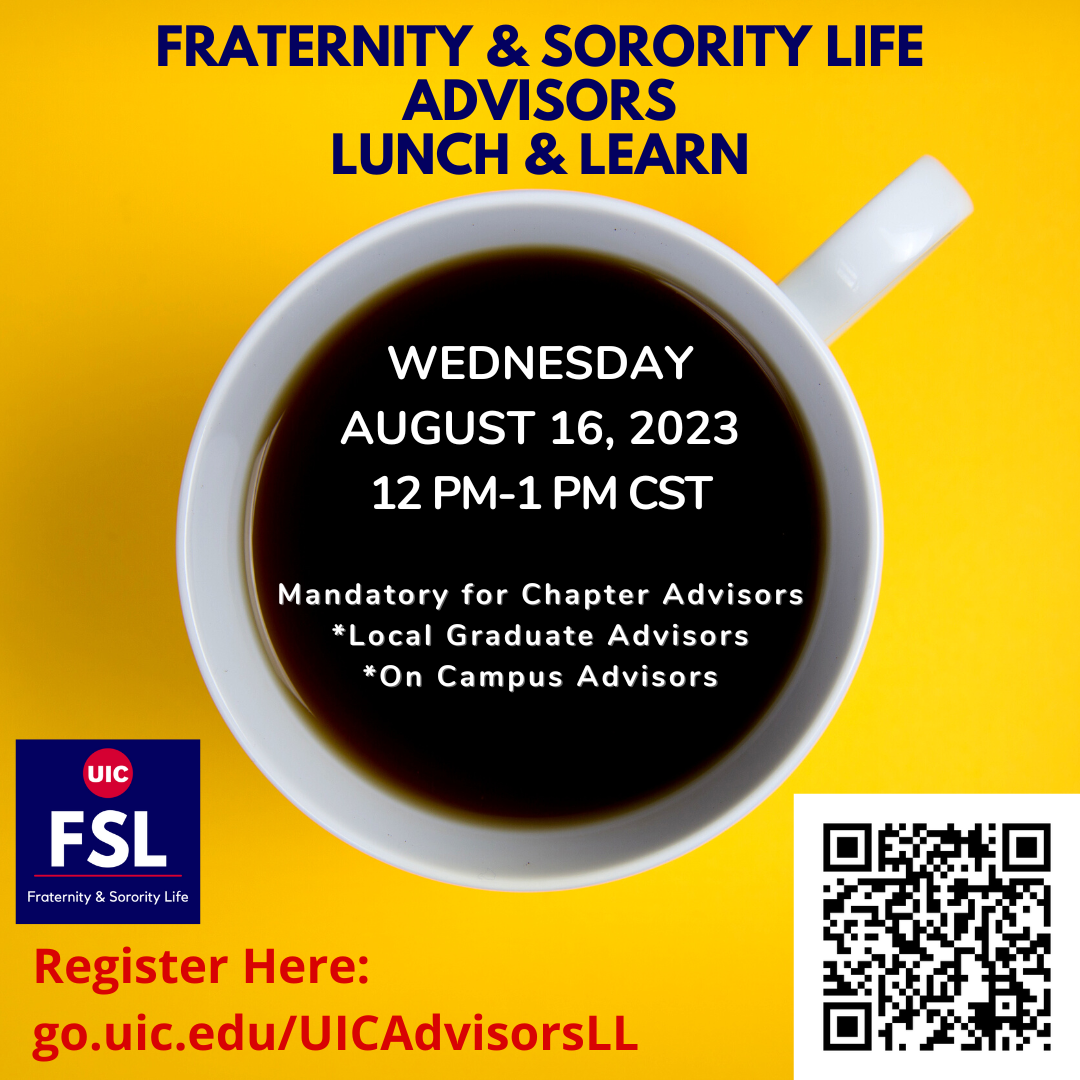 FSL Advisor Lunch & Learn – August 16, 2023
Hello Advisors!  Come out and get the latest updates from the office of Fraternity and Sorority Life at UIC.
Let's start this 2023-2024 academic year off RIGHT! We want to ensure all chapter advisors are properly updated.
Wednesday, August 16, 2023
12:00pm-1:00pm CST; Zoom
Mandatory for Chapter Advisors
*Local Graduate Advisors
*On Campus Advisors
Hello FSL Advisors,
We enjoyed being with so many of you as valued advisors during the August 16 Advisor Lunch & Learn Zoom – THANK YOU for your investment and for your time and care during the business day!
> Advisors: If you were unable to attend the FSL Advisor Lunch & Learn Zoom on August 16 at 12:30pm, please review the Zoom recording (blue link BELOW) — and be SURE to sign off on the acknowledgement at the end, which links out to a brief CampusGroups form to notate your attendance/review of the info. The chapter you advise needs you to submit this form at the end to earn full credit for your completion -&- for the chapter to be approved for a MEET FSL TABLE and/or Step, Stroll, & Salute — thank you!
ZOOM Recording of FSL Advisor Lunch & Learn
–> NOTE: It is a VERY large file.  It will take you to a Google Drive, then select the blue "Download" button, then when it may tell you that it's too large for Google to scan, click "Download anyway," and you can watch!